Jenkins offers a Free Roof Inspection to help our customers better understand the work that may be necessary on their home. And to better review and ask questions prior to contracting A Jenkins Inc for service. This complimentary on-site roof inspection includes:
General Structural Wear
Shingle Life Value / Integrity
Roof Wind Damage Assessment
Roofing Hail Damage Review
Proper Ventilation Check
Chimney Inspection
Gutters / Flashing
Structural Foundation
Overall Home Integrity
Insurance Review (RCV Policy)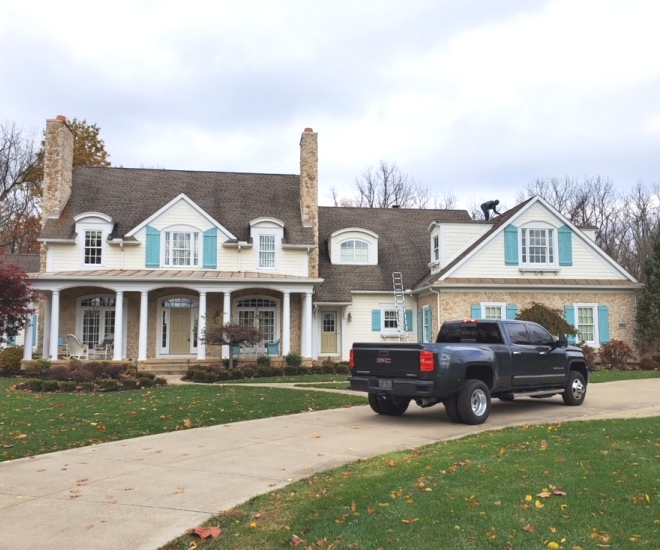 Free Roof Inspection Request Form
Click to complete the online form below and Jenkins will respond to schedule your Free Roof Inspection request. The team at Jenkins will complete your comprehensive roof inspection in approximately one hour.
At the conclusion of the appointment, A Jenkins Inc will discuss all needed repairs, problem areas, and next steps to properly renovate your home. This free roof inspection comes with no obligation or commitment on the part of the homeowner.
Protecting Home Values Begins With Your Roof
"Protecting the overall value of your home" is the most important role of your residential roof. Too often homeowners fail to recognize issues that can be occurring with their roof until a major problem has occurred. Only when they begin experiencing a leak do many property owners act.
Heat, Wind, Rain, Ice, Hail – Inspect For Damage
Conducting a proper inspection can identify problems with your home which are often not visible from your yard or driveway. Roofing material can be damaged and be impacted by numerous natural weather conditions:
Summer heat can bake and cause brittle shingle conditions.
Frigid temperatures can create gaps between roofs, shingles, and flashing material.
Windy conditions can lift and break shingles and peaks.
Rain can find gaps to create interior leaks and leaks to the roof's foundation.
Strong storms / hail can damage material reducing the lifetime protection.
Ice can lift and separate shingles, flashing, gutters.
Other Aspects We Cover During The Inspection
In addition to providing an assessment or free inspection of primary materials, the team at Jenkins will also examine accompanying components where leaks can begin. Other elements to review include:
Chimneys – crumbling grout, rotten wood, or flashing installation.
HVC Furnace Vents – Caps – heat can expand and cause leaks.
Ridge Vents – wind can lift nails and loosen installed material.
Varmint Damage – animals can do damage seeking entry into the home.
Free Roof Inspection In One Hour
The team at Jenkins will conduct your roof inspection in approximately one hour. Please complete and submit the form above.
You may also contact A Jenkins Inc by calling 216-631-4800 with questions or to schedule a time.